Is Your Business Set Up for Success?
HIRE A FINANCIAL BUSINESS ADVISOR IN ONTARIO, CA TODAY
Accounting & Bookkeeping
FIGURE OUT WHERE YOUR MONEY IS GOING WITH BOOKKEEPING SERVICES.
Analysis
FIND OUT WHERE YOU'RE WASTING MONEY.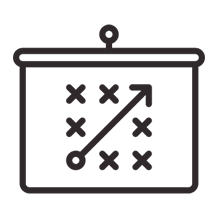 Strategic Planning
PROTECT YOUR FINANCIAL HEALTH AND YOUR SUCCESSORS.
Cloud-Based Accounting
GET REAL-TIME FINANCIAL INFORMATION ANYWHERE.
Get Comprehensive Accounting Services
Certified Public Accountant
TALK TO A FINANCIAL BUSINESS ADVISOR IN ONTARIO, CA TODAY
If you own a small business in Ontario, CA, you know how important it is to know how your money is being used. Make sure every dollar is accounted for by hiring B. Chacon Associates, Inc. Business and Tax Advisors. We offer full-cycle accounting services that include analysis and strategic planning to help your business succeed.
Don't wait to start managing your business' finances. Get the help you need from a business advisor and tax consultant. Call 909-945-5700 now to get more information.
Make a Plan for Financial Success
ASK US ABOUT STRATEGIC PLANNING SERVICES
WHY HIRE A TAX CONSULTANT?
Considering hiring a tax consultant? A tax consultant will look out for your business' best interests. When you hire a member of our team, you can expect us to:
Explain any significant changes to tax law
Find the most efficient tax system for your business
Reduce the overall taxes your business has to pay
Ensure you meet the tax deadline every year
Manage Your Finances Easily
CLOUD-BASED ACCOUNTING MAKES ACCOUNTING SIMPLE